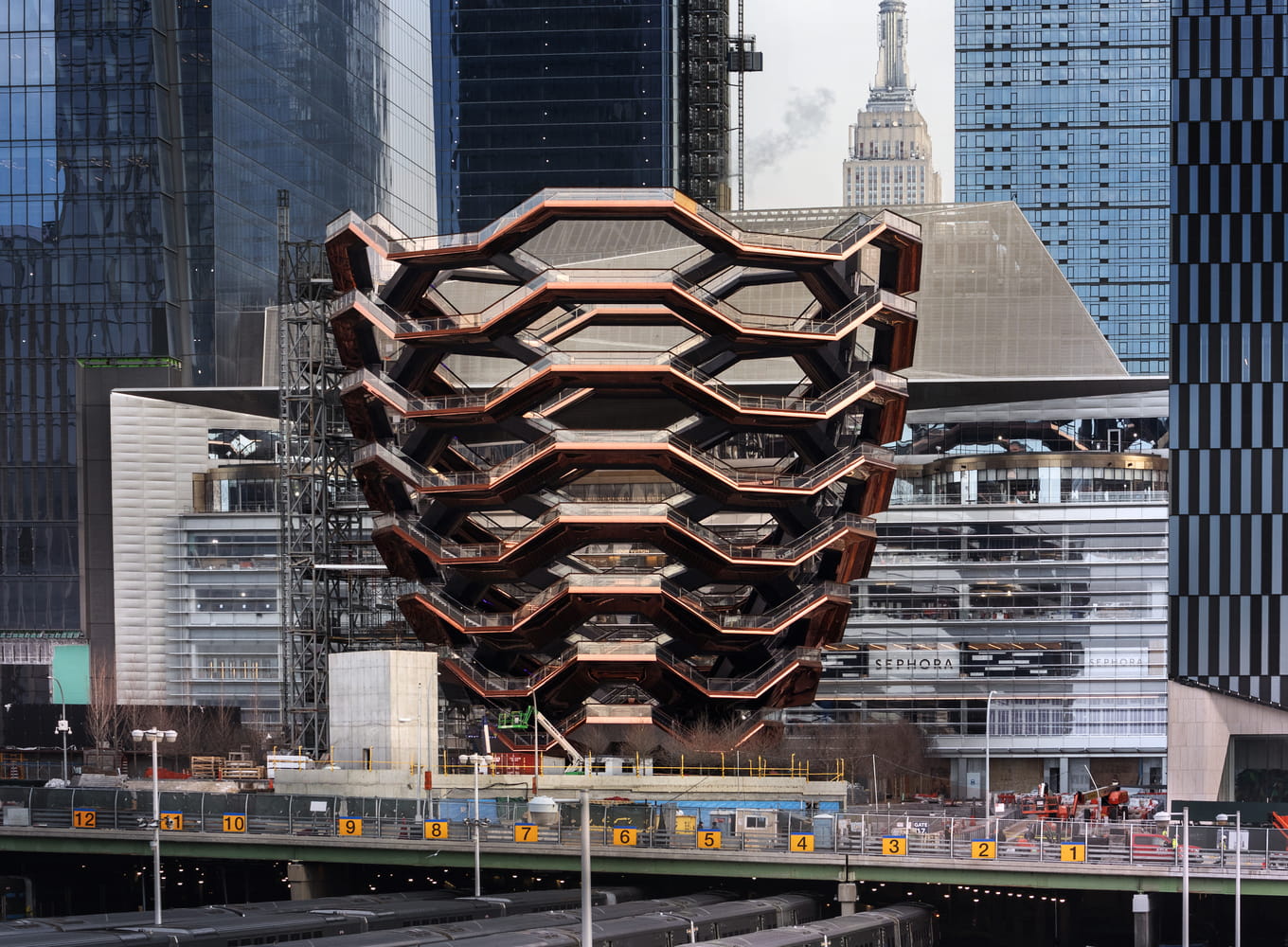 BIG HONEYCOMB: THE VESSEL
The Vessel; It is a large building consisting of interconnected staircases designed by British designer Thomas Heatherwick in the shape of a honeycomb specially designed for the Hudson Yards region on the West Side of Manhattan.
A $200 million climbable statue at Hudson Yards
The magnificent Vessel is located amidst 20 acres of squares and gardens designed by Nelson Byrd Woltz Landscape Architects.
The 16-skyscraper Hudson Yards project is the largest residential plan and largest private-sector real estate investment in the design and building industry in the city, after the Rockefeller Center, built in New York in 1930.
The vessel, which is covered with shiny and copper-colored steel with a steel carrier system, was prepared by an Italian company and sent to Manhattan with 6 different cargo options. The purpose of using steel instead of real copper is that the steel is not oxidized and maintains its brightness. In this hexagonal structure with a diameter of 15 meters and a height of 46 meters, with a total of 150 stairs, 2,500 steps and 80 connection points, there is an inclined elevator for visitors to reach the top floor.
English designer Heatherwick, who said that they have never designed anything like this before, probably thinks that such a structure will never be designed again.
Design partner Stuart Wood; He said that they do not want to build something that covers a very large area, and therefore they are building a pragmatic, but vertically growing structure that increases geometrically.
REMARKABLE AND FUN
involved in the design and construction work started by first setting a few parameters necessary for the design. Some parameters have been set for the design to be a remarkable object, not the totality of many objects covering the Square, and to be a social and fun object that encourages interaction instead of being a still sculpture.
HEARTH OF HUDSON YARDS
According to the Heatherwick Studio team; for the Vessel project, it was inspired by impressive paintings of stair wells in India where people go down to get water. Depending on the idea, an amphitheater project was planned to be built that would bring people together. It was wanted to build a place that could be the heart of Hudson Yards and where people could not only take photos but also socialize.
Vessel adds an urban feature in design and construction, which will raise people both spiritually and physically in New York and provide the opportunity to view different perspectives of the city. The design of Heatherwick has been a project of great interest since the beginning of the process, and this large statue, the new meeting point of the city, is very relevant to visitors.